For quotes see the bottom of this page;
Dave and Anni joined forces in 1985, after spending many years around the folk club scene, in which time they featured on several albums made by other performers.
Within a short time they teamed up with friends Charley Yarwood and his wife Cathy to form the acapella harmony group Beggars Velvet. The group were very soon in demand for clubs and festivals and recorded their only album, Lady of Autumn. They made two tours of the USA in 1990 and 1991 before they stopped performing together in 1993 after eight very successful and happy years.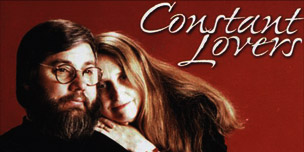 Since then Dave and Anni have continued to work as a duo, making their duo debut on stage at the Eisteddfod Festival in Dartmouth Massachusetts in 1993 to begin a very successful career as a harmony duo, working largely acapella and featuring mainly traditional and traditional idiom material. They have worked extensively in the UK and the USA to much acclaim and now have five albums of their own to set alongside the Beggars Velvet recording, which is still in demand after many pressings.
As well as touring concert venues, clubs and festivals Dave and Anni have also been involved in a number of special musical and dramatic productions on both sides of the Atlantic. They toured provincial theatres in England in 96/97 taking substantial singing and acting roles in the stage musical "The Widows Uniform" a fully dramatised production of Rudyard Kipling's Barrack Room Ballads. And more recently, in the USA, they took the parts of Henry and Susannah in Peter Bellamy's Ballad opera "The Transports".
Dave and Anni have featured on both local and national radio in Britain and also performed a live concert (with studio audience) for Radio WGBH in Boston, USA.
Although Dave and Anni perform substantially at home in the UK they also make at least one trip each year to the United States, where they have an established following and have also performed in Holland, Denmark and Finland.
Anni has developed a specialist repertoire of songs originating from her native North East, and Dave has been writing songs in traditional vein since 1982 many of these are widely sung and have become part of the general song repertoire of singers all over the world.
EDS magazine re Warwick Folk Festival 2004
A highlight is Anni Fentiman's 'My Boy Jack' The quality of the voice, reinforced by considered pauses and an attenuated delivery, draws out the sense of longing and loss................ Fentiman avoids simple sentimentality in favour of a dry eyed yet complex emotional response.
John Warner Australia
I am awed! I listened to Banners, then went back and listened to the other hair raising, spine tingling material until I got to Banners. To hear raw, rich English voices, evocative of mining, rural life, the mills and ten thousand noisy pubs is enough in itself. To suddenly find one of my own songs hauled into that tradition and given its full fire, hammer and anvil shaping is unimaginably uplifting. You've done glorious honour to the song.
Warwick Folk Festival
It's a magical experience whenever these two fine singers put their voices together. As for their harmonies, they are breathtaking.
Scott Alaric Boston Globe USA
Dave Webber has that rare gift of writing songs that sound traditional.
Cornwall Folk Festival
If you love traditional music delivered with strength, clarity and simplicity, you certainly won't be disappointed with this duo.
Dirty Linen Magazine USA
Dave's songs are very strong, they also have a solidly traditional feel to them.
Sean Ryan, Boston Irish Reporter USA
Anni Fentiman executed her notes so perfectly, with such an eerie sound that one could actually picture the scene described in the song.
National Folk Music Festival England
The enthusiasm of these two fine singers for traditional and traditional style songs, comes through hot and strong, whether singing together or solo.